Happy Dog Multivitamin Mineral Forte
Tax included.
Spend

€50,00

to

FREE SHIPPING
Owners often choose to prepare their dog's ration themselves, either all the time or just as a change. However, the main components of such diets - meat, vegetables, oil and sometimes rice, potatoes, etc. - on their own do not contain enough of the minerals, vitamins and trace elements that the domestic dog needs. A well-balanced supplement containing these nutrients is absolutely essential.
Special meat-rich rations supply too little calcium. This can be compensated perfectly by giving Multivitamin Mineral Forte. High doses of trace elements and vitamins contribute significantly to optimising metabolic and immune system functions. They also provide a balanced supply in the long term. This makes Multivitamin Mineral Forte the ideal supplement to owner-prepared rations containing little bone. It supplies all the other essential vitamins, minerals and vital trace elements, which means that bones do not have to be fed on a regular basis.
Composition
calcium carbonate, rice flour, dicalcium phosphate, apple pomace, potassium chloride, linseed flour, banana flour, sodium chloride. Metabolisable energy: 620 KJ/100g; 1480 Kcal/kg
Analytical Constituents
crude protein 5.3%, crude fat 3.2%, raw fibre 3.9%, raw ash 53.1%, calcium 4.0%, potassium 14.0%, phosphorus 4.0%, sodium 3.5%, magnesium 1.2%, Omega-3 fatty acids 0.9%, Omega-6 fatty acids 1.2%
Additives
Diet physiological additives per kg: Vitamin A (3a672a) 170000 I.E., vitamin D3 (3a671) 18000 I.E., vitamin E (all rac-Alpha-tocopheryl acetate 3a700) 1500 mg, vitamin B1 (thiamine mononitrate 3a821) 80 mg, Vitamin B2 (riboflavin) 180 mg, vitamin B6 (pyridoxine hydrochloride 3a831) 40 mg, vitamin B12 1200 mcg, vitamin C (3a300) 1500 mg, biotin (3a880) 2500 mcg, folic acid (3a316) 9 mg, niacin (3a314) 380 mg, calcium-D pantothenate (3a841) 380 mg, choline chloride (3a890) 5000 mg, iron (iron(II) amino acid chelate hydrate 3b106) 2000 mg, iodine (potassium iodide 3b201) 30 mg, copper (E4; cupric chelate of amino acid hydrate) 160 mg, manganese (manganese of amino acid chelate hydrate 3b504) 100 mg, selenium (3b8.12 selenomethionine from Saccharomyces cerevisiae CNCM I-3399 (inactivated selenium yeast) 7 mg, zinc (zinc of amino acid chelate hydrate 3b606) 1400 mg
| | | |
| --- | --- | --- |
| Weight | | Daily feeding quantity |
| 5 kg | | 4 g |
| 10 kg | | 7 g |
| 15 kg | | 9 g |
| 20 kg | | 12 g |
| 30 kg | | 15 g |
| 40 kg | | 20 g |
| 50 kg | | 22 g |
Feeding note:Mix with owner-prepared, low-bone rations consisting of meat, vegetables, oil and optionally rice or potatoes. We recommend that you use scales to ensure that your dog receives exactly the right amount of Multivitamin Mineral Forte. If you intend to feed owner-prepared rations in the long term, we recommend that you ask your veterinarian to provide a detailed ration calculation.

Feeding quantity: Dog's weight in kg / Feeding quantity (g/daily) 5kg/4g, 10kg/7g, 15kg/9g, 20kg/12g, 30kg/15g, 40kg/20g, 50kg/22g, (1 measuring spoon holds about 15g).
View full details
Add an additional description to your product option. Ex: Size guides, and other common questions.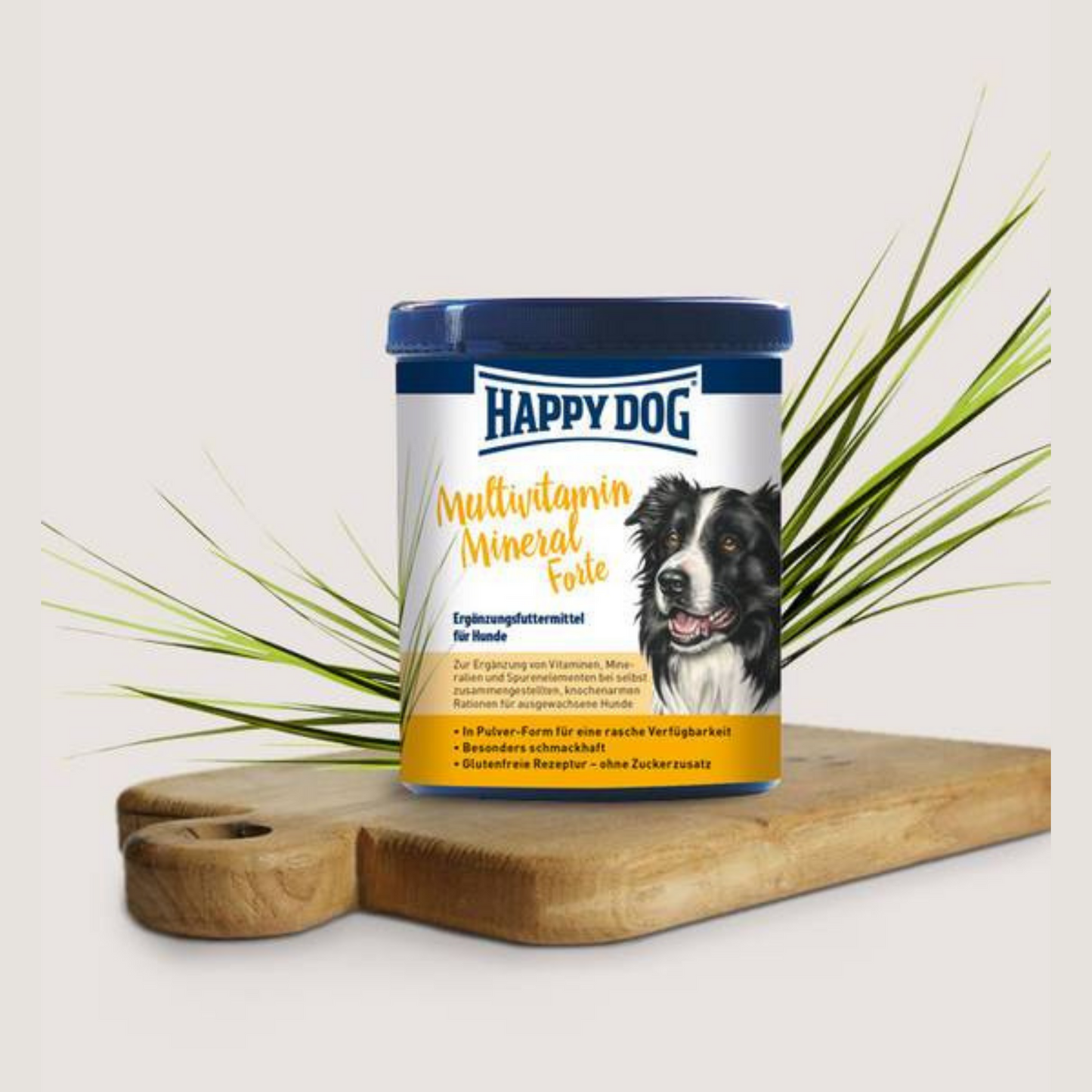 Happy Dog Multivitamin Mineral Forte