Diamant Dog Adult Mini Chicken
Tax included.
Spend

€50,00

to

FREE SHIPPING
Experience the ultimate nutrition tailored for your small adult dog with DIAMANT MINI ADULT CHICKEN, a complete and meticulously formulated food designed to meet the unique needs of small dogs. Developed by our team of expert nutritionists, this exceptional product supports your furry companion in living a healthy, vibrant life by providing them with precisely balanced nutrition. 

Tailored Nutrition for Small Dogs:

DIAMANT MINI ADULT CHICKEN is specially created to cater to the specific nutritional requirements of small adult dogs. Our dedicated team of nutritionists has carefully crafted this formula to ensure it meets the needs of your small canine companion, keeping them in optimal health and vitality.


Enhanced Palatability and Digestibility:

We understand the importance of both palatability and digestibility when it comes to your dog's food. That's why DIAMANT MINI ADULT CHICKEN is produced using cutting-edge technology that enhances its palatability, making it irresistibly delicious for your furry friend. Additionally, the formulation ensures optimal digestibility, supporting efficient nutrient absorption and promoting digestive health.

Carefully Selected Ingredients:

DIAMANT MINI ADULT CHICKEN is made with a selection of high-quality ingredients to provide a wholesome and balanced meal for your small dog. It contains dehydrated animal protein derived from chicken and turkey, constituting 25% of the formula. Other essential components include corn, wheat, rice, beet pulp, chicory pulp (a source of inulin), oils and fats, hydrolyzed animal proteins, yeasts, minerals, carob extract, chestnut extract, and F.O.S. (fruit-oligosaccharides). Each ingredient is thoughtfully chosen to contribute to the overall nutritional profile and promote your dog's well-being.


Nutritional Analysis:

With a generous crude protein content of 26.00% and a phosphorus content of 1.20%, DIAMANT MINI ADULT CHICKEN ensures that your small dog receives the essential building blocks for their overall health and muscle development. This carefully balanced formula provides an energy value of 3394 Kcal/kg or 14.31 MJ/kg, supplying the necessary fuel for their daily activities.


Essential Additives:

DIAMANT MINI ADULT CHICKEN incorporates vital nutritional additives to further enhance your small dog's wellbeing. It includes vitamin A (15,000 U.I./kg), vitamin D3 (800 U.I./kg), vitamin E (85 mg/kg), folic acid (1 mg/kg), and linoleic acid (1.57 mg/kg). These additives support immune function, promote healthy skin and coat, and contribute to overall vitality.


Easy to Use:

DIAMANT MINI ADULT CHICKEN can be served dry or moistened with water or broth, providing flexibility in serving options. When introducing this delectable food into your dog's diet, we recommend a gradual transition. Always keep a bowl of fresh water available for your dog's hydration needs. For the best quality, store DIAMANT MINI ADULT in a cool, dry place, and ensure it is consumed within 18 months of the production date.

Choose DIAMANT MINI ADULT CHICKEN and give your small dog the exceptional nutrition they deserve. Watch them thrive with every delicious and nourishing bite!

View full details
Add an additional description to your product option. Ex: Size guides, and other common questions.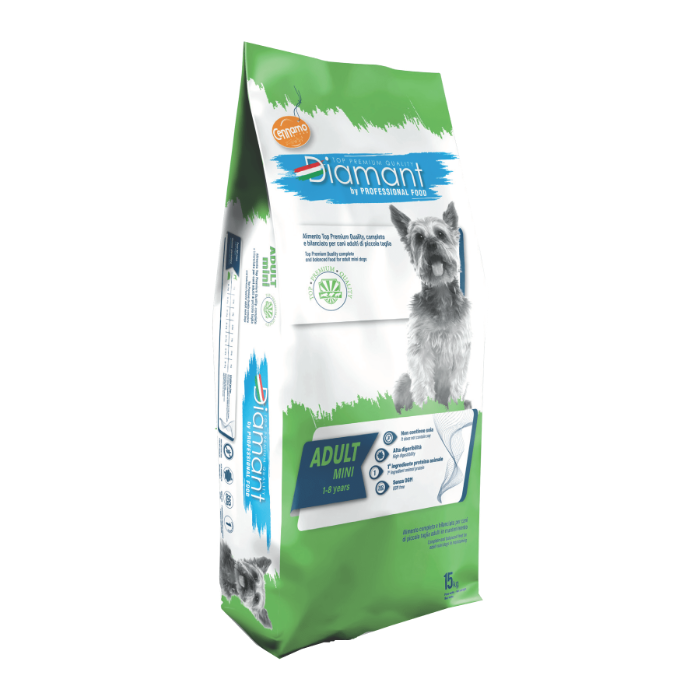 Diamant Dog Adult Mini Chicken