Forza 10 Medium Diet Venison and Potatoes
Tax included.
Spend

€50,00

to

FREE SHIPPING
Medium Diet Venison with Potatoes is the Reference Line Desensitizing studied by SANYpet to meet all the dogs with hypersensitivity to meat, especially if caused by intensive farming.
Clinical grounds: Clinical studies have shown that the vast majority of dogs and cats fed with sea fish and / or meat derived from intensive farming, is free to frequently-related disorders.
Microencapsulation guarantees stable in time of natural principles added (pineapple, papaya, pomegranate and ginseng) and their gradual absorption in the intestinal tract (slow release), allowing for effective and lasting. To its formula, already naturally rich in Omega-3 and Omega-6 fatty acids (found in the ratio 1: 3), they were added to the stem of pineapple, papaya, pomegranate and Ginseng
 • deer as the only source of protein, highly digestible and not derived from factory farming
 • integrated with natural ingredients such as Ginseng and Pineapple. Ginseng is considered the best known substance energizing, useful in all the states of stress. The Pineapple is, however, rich in vitamin A and other valuable substances beneficial
 • deer has quality buds and dietary considerable: low-fat and cholesterol, high in protein and restricted calorie intake
 • ability of fish oil to protect against the risk of developing cardiovascular disease
 • nature conservation, avoid the intake of chemicals and the resulting possible adverse reactions
 
Indications:
 • food intolerances to ingredients and / or nutrients
 • it helps to prevent the onset of the most common disorders related to food allergens
 
Natural principles added:
 • Ginseng: Considered the best known substance energizing, useful in all the states of stress
 • Pineapple: is rich in vitamin A and precious beneficial substances, well known to all the vets
 • Papaya: antioxidant, naturally rich in vitamin C, magnesium, calcium and potassium. It enhances the physiological mechanisms of defense
 • Pomegranate Caucasus: provides a natural polyphenols that counteract lipid oxidation and the harmful action of free radicals. It possesses natural essential fatty acids oleic and linoleic acids, which are essential for the organism
 • Yucca schidigera: improves digestion and reduces the production of ammonia, mitigating the typical acrid smell of faeces
 • Bio MOS and FOS: carbohydrates that regulate the presence of intestinal bacteria, providing an ideal support to the absorption of food
INGREDIENTS
rice, processed proteins deer (25%), potato (8%), sunflower oil, beet pulp, fish oil, minerals, dehydrated yeast (Bio MOS), FOS, vegetable oils and fats (Elaeis guineensis), pineapple stem (0.025%)
 
Additives:
vitamins: Vitamin A 18,000 IU / kg vitamin D3 1,500 IU / kg vitamin E 200 mg / kg, choline chloride 1.000 mg / kg. Trace elements: copper chelate of amino acids hydrate 20 mg / kg. Nutritional additives: DL-methionine 500 mg / kg. Technological additives: antioxidants, preservatives, extract rich in natural tocopherols 16.4 mg / kg. Sensory additives: botanically defined natural products: Carica papaya 250 mg / kg, Punica granatum 150 mg / kg, Panax ginseng 50 mg / kg, Rosmarinus officinalis 12:30 mg / kg
 
Analytical components:
moisture 9%, crude protein 25%, oils and fats 12%, crude fiber 2.5%, crude ash 7.6%, 2% calcium, phosphorus 1.3%, Omega3 1:40%, Omega6 20.4%. Omega 3/6 ratio of 1: 3
 
Metabolisable Energy:
3,428 kcal / kg - 14.4 MJ / kg
 
Period of application:
Food intolerance: 3 to 8 weeks, if the symptoms of intolerance disappear this feed it can be used indefinitely
View full details
Add an additional description to your product option. Ex: Size guides, and other common questions.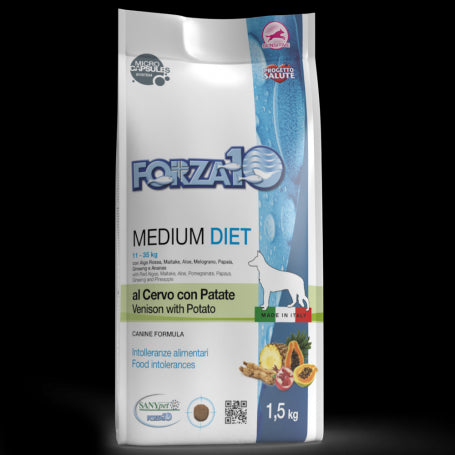 Forza 10 Medium Diet Venison and Potatoes