Dolina Noteci Perfect Care- 400g Allergy
Tax included.
Spend

€50,00

to

FREE SHIPPING
Complete wet food for overweight or obese adult dogs of all breeds and prone to such disorders 185 g and 400 g This is a light food for obese, overweight, tending to gain or less active dogs, including older dogs.

 

The reduced calorific value and the level of fat reduced to only 3.5% - depending on the serving size - help to reduce or maintain the animal's body weight at the correct level.

 

Psyllium seeds present in the food provide a feeling of satiety.

 

In addition, this ingredient regulates the functioning of the digestive system and helps to reduce appetite.

 

In turn, the addition of Yucca Mojave has a positive effect on the work of the intestines and digestion.

 

A valuable ingredient of food for dogs with digestive disorders is also brewer's yeast,
The food has been developed for the needs of dogs:
overweight and obese,

not very active,

middle-aged and older,

sterilized and castrated,

breeds prone to obesity, e.g. labradors, cocker spaniels, pugs.
Effects of use:
reduction of body weight,

maintenance of the dog's body weight at a constant level,

normalization of appetite,

regulation of bowel movements.
View full details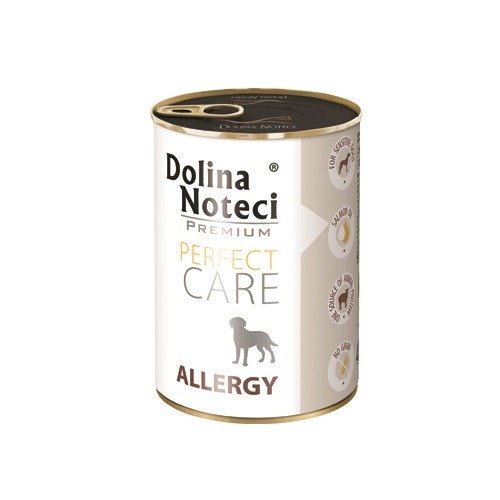 Dolina Noteci Perfect Care- 400g Allergy