Forza 10 Maintenance All Breeds with Fish and Rice
Tax included.
Spend

€50,00

to

FREE SHIPPING
FORZA10 products are known for their ability to clearly reduce all disorders related to food intolerance.
They are based on decades of in-depth research on pathologies of food origin, first of all intolerances.
To achieve this purpose they are based on:
Use of high quality raw materials free of chemical and pharmacological residues, first of all oxytetracycline identified by us as the cause of toxic and inflammatory phenomena damaging cells (studies published in international scientific journals, such as Poultry Science* and JBMT* *).

High intake of Omega3, essential for their anti-inflammatory action, control of cell growth (especially adipose ones) and their elasticity, significantly reducing the risk of overweight and the frequent and apparently inexplicable injuries to the elastic tissues.

Introduction of special natural ingredients with detoxifying and antioxidant action.

Insertion of a selection of medicinal plants, each carefully studied by the SANYpet Research and Development Department, for their antioxidant and specific effects on the immune system.




Their proven immuno-modulating action allows you to rebalance the immune system, attacked and destabilized daily by pollutants that alter its defense capabilities, with significant effects on health.




* Poultry Science: Cytotoxic effects of oxytetracycline residues in the bones of broiler chickens following therapeutic oral administration of a water formulation.




** JBMT "Journal of Biochemical and Molecular Toxicology": Toxicological implications and inflammatory response in human lymphocytes challenged with oxytetracycline.
Formulated for:
Maintenance All Breeds Adult with Fish and Rice is a reference for dogs from the FORZA10 Line; is a special maintenance food for adult dogs of all sizes, complete and balanced, formulated by the SANYpet Research and Development Department.
Strengths:
High quality raw materials, systematically checked (over 5,000 checks per year) and free of tetracycline residues, to limit intolerance phenomena

Animal protein source: sea-caught fish

Glucidic source: rice

Reduced number of ingredients to reduce the risk of food intolerances and allergies

Outstanding ratio Omega3:Omega6 = 1:1.5

Ideal for maintaining the state of well-being achieved with foods from the Diet and Active line

Pineapple rich in vitamin A and other beneficial substances, ginseng with an energizing and anti-stress action, papaya with a stimulating effect on the immune system, antioxidant pomegranate and supplier of Omega3 and 6

Effectiveness of the delicate botanical substances protected by the Microcapsules System
Composition
rice 34%, fish meal 21%, rice flour, oils and fats, brewer's yeast, beet pulp, minerals, dehydrated yeast (Bio MOS), FOS, Yucca schidigera, vegetable oils and fats (Elaeis guineensis) , products obtained from the transformation of vegetables (Pineapple spp. 0.025%), products and by-products from the transformation of fresh fruit and vegetables (Carica papaya 0.0151%).
Vitamin additives
: vitamin A 16000 IU/kg, vitamin E/all-rac-alpha-tocopheryl acetate 235 mg/kg, choline chloride 1000 mg/kg. Trace elements: zinc sulphate monohydrate 135 mg/kg, copper amino acid chelate hydrate 39 mg/kg. Nutritional additives: DL-methionine 500 mg/kg. Technological additives: antioxidants, preservatives, extract rich in tocopherols of natural origin 14.4 mg/kg. Organoleptic additives: botanically defined natural products: Punica granatum 150 mg/kg, Panax ginseng 50 mg/kg, Rosmarinus officinalis 0.3 mg/kg.
View full details
Add an additional description to your product option. Ex: Size guides, and other common questions.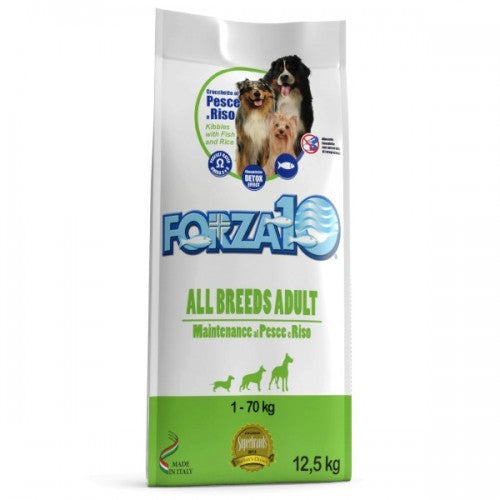 Forza 10 Maintenance All Breeds with Fish and Rice