Forza 10 Puppy Condro Active
Tax included.
Spend

€50,00

to

FREE SHIPPING
Puppy Condro Active is a complete food that we designed for growing puppies, to help in the development of the musculoskeletal system.
It helps to avoid the risk of occurrence of disturbances in this important apparatus during the growth phase of the dog or in the presence of the hereditary disorders.
The precious natural ingredients, combined with the properties of sea fish (high in Omega-3 fatty acids, high-protein and high digestibility) free of chemical pollutants and pharmacological most toxic, are able to make a difference in growth of the puppy , favoring action chondroprotective and antioxidant on the apparatus musculoskeletal.
CHARACTERISTICS
advantages of administration compared to traditional supplements
use of protein hydrolysates as excipients
the palatability of the tablets appears to be the same as that of the dog food
regular daily intake of natural principles
synergistic activity of boswellic acids (Boswellia serrata), dell'arpagoside (Devil's claw), deiglicosamminoglicani (Perna canaliculus), of Omega3 (3/6 ratio 1: 1)
action of glucosamine and chondroitin enhanced by the combination of all natural ingredients in the formulation
gastroprotective effect of chitosan added
phytocomplexes stability in the AFS system and then their real activities. These active, not to be largely destroyed by the high temperatures of the extruder as normally would happen, it is cold-worked and placed in a special heart-shaped tablet. Not undergoing any heat treatment, they remain completely unaffected and can thus exert their action prolonged in time
properties of natural principles added, titrated and standardized, well-known from traditional medicine and herbal medicine. Contribute to the improvement of the physiological mechanisms of the organism defensive
INDICATIONS
for the prevention of disorders of the musculo - skeletal
to promote a harmonious development of the muscular - skeletal puppy
in people susceptible to hip dysplasia show
in individuals with imbalances accretion
for noise reduction of food-borne
NATURAL ADDITIONAL PRINCIPLES
Glucosamine plant: extracted from corn, does not have the drawbacks of its own glucosamine extracted from shellfish. Plays a key role in the promotion, maintenance and in the structure and function of cartilage in the joints of the body.
Chondroitin sulfate: extracted from shark cartilage and particularly bioavailable and assimilable, has natural properties chondroprotective.
Chitosamine (chitosan): naturally occurring substance that facilitates the absorption of chondroitin, protecting it in the digestive tract.
Boswellia (Boswellia serrata): naturally rich in boswellic acids with good protective activity, without the ill effects associated with long term treatment.
Devil's claw (Harpagophytum procumbens) is used to enhance the physiological functions of the musculoskeletal system.
Flour molluscs (Perna canaliculus) is a source of glycosaminoglycans, and omega3, essential to maintaining the integrity of the bones, joints.
Omega3: contribute to the elasticity of the cell membranes. In addition, the optimal ratio 1: 1 with Omega-6 promotes a harmonious development of skeletal muscle and neuronal puppy.
INGREDIENTS
(Of the kibble): rice, fish meal (25%), fish oil, vegetable oils and fats, yeast, beet pulp, minerals, dehydrated yeast (Bio MOS), FOS, Yucca schidigera. (AFS tablet - 7% of the food): hydrolysed fish protein, hydrolysed vegetable protein, minerals, chondroitin sulfate (from shark cartilage) (0.0811%), vegetable glucosamine (0.0810%), flour molluscs (0.0635%) , Chitosamine (0.0400%).
Additives
vitamins: Vitamin A 15,000 IU / kg vitamin E / all-rac-alpha-tocopheryl acetate 200 mg / kg, vitamin C 250 mg / kg, choline chloride 1.000 mg / kg, essential unsaturated fatty acids Omega3 320 mg / kg. Trace elements: zinc sulfate monohydrate 137 mg / kg, cupric chelate of glycine hydrate 39 mg / kg. Nutritional additives: DL-methionine 500 mg / kg. Technological additives: antioxidants, preservatives, extract rich in natural tocopherols 24 mg / kg. Sensory additives: botanically defined natural products: Boswellia serrata 250 mg / kg, Harpagophytum procumbens 243 mg / kg, Rosmarinus officinalis 0.5 mg / kg.
Analytical components
moisture 9%, crude protein 32%, oils and fats 16%, crude fiber 2.5%, crude ash 6.3%, Omega3 21.2%, 18.2% Omega6. Omega3 / 6 1: 1.
Energy Metabolisable
3,684 kcal / kg - 15.4 MJ / kg
Period of use
from 3 to 8 weeks, if symptoms of intolerance disappear, the product can be used indefinitely.
View full details
Add an additional description to your product option. Ex: Size guides, and other common questions.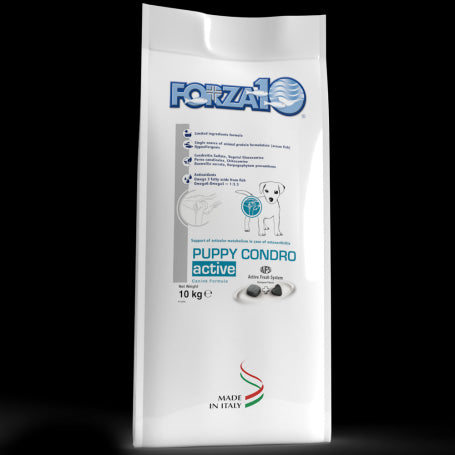 Forza 10 Puppy Condro Active