Forza 10 Urinary Active for Cats
Tax included.
Spend

€50,00

to

FREE SHIPPING
FORZA10 Urinary Active  is a special, complete and balanced dietetic food formulated by the SANY pet Research and Development Department for adult cats, useful in supporting a healthy urinary system.
The Active line is the natural alternative to drugs: a food to solve your cat's main health problems!
"Nutraceutical food"

 , ie a healthy food that combines nutritional components selected for characteristics such as high digestibility and hypoallergenicity, the properties of natural principles extracted from plants, of proven and recognized efficacy.
The only protein source:

  surface fish (anchovies and herring caught in the open sea).
The only carbohydrate source:

  rice.
Hypoallergenic dietary formula

  specifically designed for food intolerances whose target organ is the dissolution of struvite stones and the prevention of recurrences in cats.
Adjuvant for the treatment of pathologies of the lower urinary tract in cats and prevention of the formation of struvite stones.
Formula compliant with the nutritional needs of subjects with urinary tract problems.
Standardized and titrated natural ingredients, chosen to have constant efficacy in urinary tract disorders. The substances used for their specific activity enhance the effect of this diet by integrating its formulation.
Low concentration of magnesium and acidifying properties of urine (DL-methionine).
Selected sources of proteins and carbohydrates

  (fish meal, high biological value rice).
Stimulation of correct intestinal peristalsis

  through beet pulp, which improves functionality and absorbent capacity.
Stability of the phytocomplexes present

 , guaranteed by the patented AFS system and therefore their real activity. In fact, the natural principles, in order not to be largely destroyed by the high temperatures of the extruder as would normally happen, are cold-worked and inserted into a special heart-shaped tablet. Not undergoing any heat treatment, they remain completely unaltered and can thus carry out their prolonged action over time.
Natural antidegenerative properties

  of fish oil, naturally rich in two important Omega3 fatty acids: EPA (eicosapentaenoic acid) and DHA (docosahexaenoic acid), which intervene in the fundamental biological and physiological mechanisms of the organism.
Ability of fish oil to protect against the risk of developing cardiovascular disorders.
Precious added natural principles

 , such as Pilosella, Nettle, Lespedeza, Blueberry and Dandelion which contribute to the improvement of the physiological defensive mechanisms of the urinary tract.
View full details
Add an additional description to your product option. Ex: Size guides, and other common questions.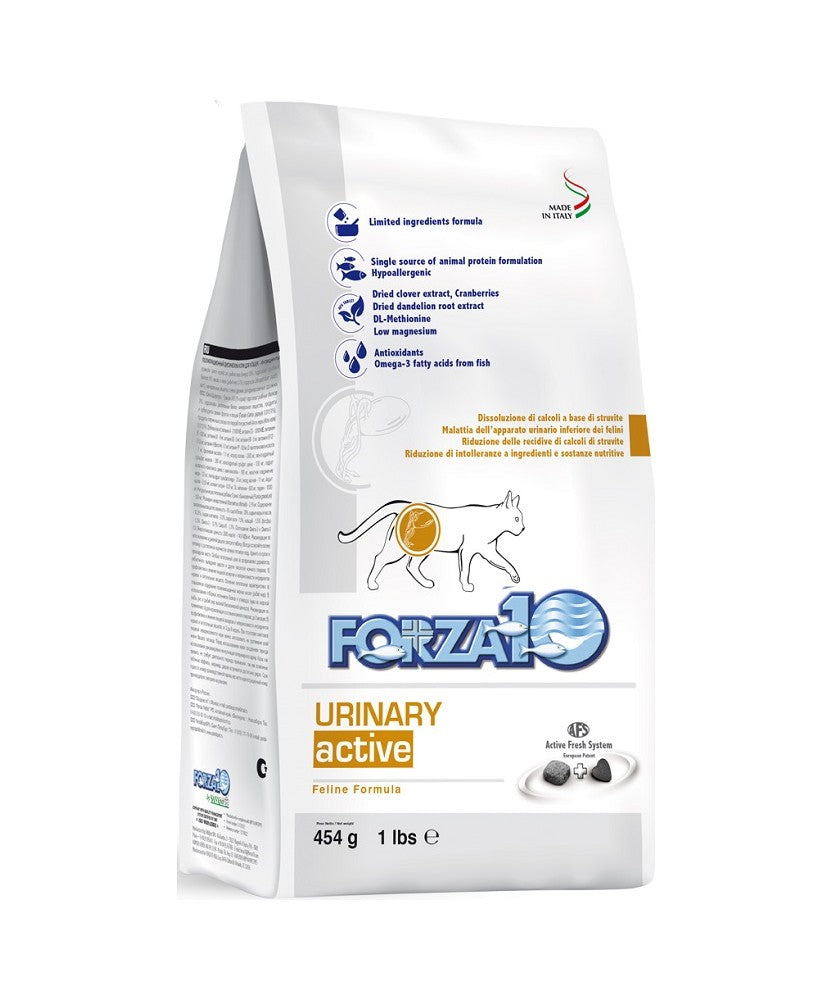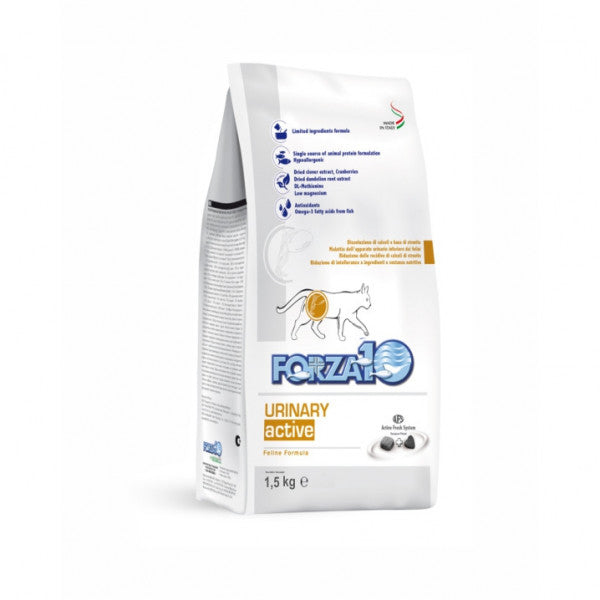 Forza 10 Urinary Active for Cats