Welly Green Tea And Bamboo Cleansing Wipes
Tax included.
Spend

€50,00

to

FREE SHIPPING
WELLY™ CLEANSING WIPES Green Tea & Bamboo Fragrances are indicated for daily cleansing of the coat and skin of dogs and cats, leaving the pet's coat pleasantly scented and sanitized thanks to the presence of Tea Tree oil, known for its antimicrobial properties.

Welly™ Green Tea & Bamboo Sanitizing Cleansing Wipes contain organic green tea extract and essential tea tree oil for deep and effective cleansing, but naturally delicate and respect the pH of the pet's skin.

Welly ™ wipes are Made in Italy and made of soft 100% compostable and biodegradable cotton. They are available in 6 pleasant fragrances, have maxi dimensions of 30 x 19 cm, and are in packs of 40 pieces.

All Welly ™ wipes contain natural organic extracts for deep and effective but naturally delicate cleansing, leaving the pet's coat pleasantly scented. They are suitable for dogs and cats. Not tested on animals
HOW TO USE
Remove the Welly ™ wipe from the package, open it and rub it gently on the pet's fur. There is no need to rinse. It is recommended to close the freshness-saving packaging to maintain the humidity of the wipes. After use, throw the wipe in the waste bin.
View full details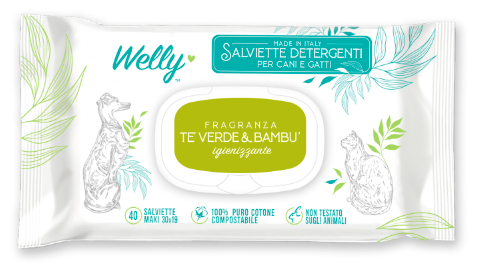 Welly Green Tea And Bamboo Cleansing Wipes